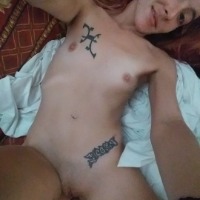 frannybangz earned 5 awards





Personal Details
About Me
Hey there! I'm Francesca Bangz, but you can call me Franny! I'm a redheaded, 24-year Old vixen that's only 4' 11'' and maybe ninety-five pounds soaking wet. I enjoy all those freaky, kinky, nasty, and naughty little things that all those good little girls shouldn't do. There isn't anything that I could think of that I don't like to do sexually, I'm all for exploring my body and my fetishes and kinks. I don't mind helping you find yours either!

I enjoy dominating and humiliating sissies. I'll be your findom mistress making you kneel before me naked and ashamed but your still begging me to allow you to cum…. Maybe if you're nice enough to me, I may just allow you to do so! I also enjoy being a bratty little submissive cum slut for my domme. I'm open to almost all fetishes, if I wasn't willing to try something new then how will I find out if I'm into it or not? I do have a few limits, but not that many. I like to push my boundaries and see just how far my breaking point is.

I know you think I look like just such an innocent sweet little princess, but I'm also a royal dominating little bitch! Nonetheless, I deserve will be treated with dignity and respect! Got a strange fetish that you may think is strange? Ask me to come play anyways, I'll never learn if I don't try, so if I'm never asked something then I may never know either. So go ahead and give it a shot, message me to find out today! Start off by saying, "Franny, please cum out and play with me today!"

Skype Account ~~ live:.cid.da3f370601b7fe8c

Francesca Bangz
Bratty Slutty Sub or FinDom Mistress Fran
Princess in these streets, but I'm a dirty little nasty slut in between those sheets.

Available During Typically 10 Minute Show

Quickie/Cam 2 Cam - Mutual Masturbation

Dirty Talk/Phone Sex

Cock Ratings/Cock Humiliation

Cum Shots/Cum Countdowns

Smoke Show

BJ's

Pussy Play

Cum Eating Instructions/Encouragement

Begging/Teasing

Strip Teasing

Model Panties/Outfits

Jerk Off Instructions/Encouragement

Small Penis Humiliation

Franny's Rule's
1.) I will not verify myself. The verification process on any platform is extremely strict, therefore I should never have to verify that I am who you see posted online. I update my profiles about once a week with any new changes in my contact information.

2.) Of course, I do not mind helping you decide as to what you would like your show to consist of. But, please do not come to me and say that you have no idea what you want to do. Have a general idea already in mind please and thank you.

3.) Please do not message me and what to ask a bunch of questions and then take forever to post your payment. We will handle the payment process within the first 10 minutes of conversation as to show you are not wasting either of our times. I do not appreciate time wasters if I feel as you are doing so that I will block you.

4.) Previews… is the same as asking me to verify myself. I do not do previews either. Refer to #1 please.

5.) I understand that there might be another girl advertising at a lower rate than I am…. Good for her! However, I value myself at a much higher rate so therefore do not try and haggle my rates with me. If I tell you the price then that is that. Don't low ball me either!

6.) When it comes to my sexuality I am as open as a book but I do not tolerate racial/religious slurs, no fisting/gaping, and I will only pretend to be as young as 18 years old! PERIOD!

7.) If you pay for a 10 minute show and do not use the entire 10 minutes, those remaining minutes are not available to use at a later date.

8.) I am not responsible for any difficulty that may occur during your show. However, I have class and I will reset your time as long as the problem occurs within the first two minutes of our show. If the problem is on my end, I will fix the problem and attempt our call again. If I can not fix the issue, you will have a show credit with me for another time.

9.) Do not argue with me about the things that I may not be comfortable performing. There is a reason why models take the time to make a bio for you to read prior to contacting me to set up a show. I do expect you to read this before contacting me also. NO EXPECTATIONS.

10.) Do not record our show with prior permission and pay for it as well. I do have softwares enabled to know if you are recording or taking pictures and you will be blocked and reported if you are caught doing so with permission. Thank you.

11.) I am not your girlfriend which means I do not sit around and talk to you all day and night for free. However, once we establish a relationship I do not mind chatting if I am online and not too busy. But do not over use this please.

12.) I would appreciate it if you did not call me if you have not already paid for a show and discussed with me your show. I will not pick up and I will most likely block you.

SKILLS THAT PAY THE BILLS!
*Surcharges can occur if adding one to your show.

Bratty Slutty Sub

FinDom Mistress

Deep Throat Blow Jobs

Roleplay (Favorite is Daddy/Daughter)

Special Outfits

Foot Fetish

Specific Fetishes

Lesbian Skype Show

Shower Show

Cuckolds

Anal Play

Prices
$3.00 Per Minute Cam Shows

5 minutes - $15

10 minutes - $30

15 minutes - $45

20 minutes - $60

30 minutes - $90

40 minutes - $120

50 minutes - $150

60 minutes - $180

Phone Sex - $2.00 Per Minute

Sexting - $1.00 Per Minute/ $2.00 Per Minute With Pictures

Photo Sets - $30 for 5 Pictures

Videos - $40 for 10 minute

Custom Pictures/Videos - Start at $30

SnapChat/KIK - Weekly $40/ Monthly $90/ 3 Months $120/ Lifetime $300

Panties/Shoes/Clothes - Cost of item plus shipping and handling fees

Social Media
SnapChat ~~ @frannybangz

Kik ~~ @frannybangz

Instagram ~~ @frannybangz

Twitter ~~ @francesca_bangz

Email ~~ bangzfrancesca@gmail.com

Skype ~~ live:.cid.da3f370601b7fe8c

Website ~~ www.bangzhouzelive.com


I reserve the right to refuse service due to any reason above and those not listed that may be violating my personal terms or the platform you found my listings. I reserve the right to block and stop contact with you for any violation of any rule or term of service.
Submissive little girl who is all about pleasing you and making you cum as many times as I can. I'm into almost anything the mind could imagine, think its an odd fetish or kink message me and find out with I think about it. Nowadays nothing is new or off limits to me. Tribute to me to get my attention and once you've got ahold of it..... Don't let me go cause then you'll be stuck left dreaming of me for all eternity.
Things I will do
Things I won't do
Items I have available for my shows
Payment Options
Status Feed
frannybangz wrote 11 months ago

Who is awake this beautiful monday morning? We will be going online on @BongaCams here shortly. Stay tuned to see what trouble Franny is gonna stir up today.
My Rules
I expect you to have read my entire profile prior to contacting me.
My Rates
| | Skype Show | Custom Video | Custom Photo Sets |
| --- | --- | --- | --- |
| 10 minutes | $ 30.00 | $ 50.00 | $ 45.00 |
My Schedule
| Times are CST | Time |
| --- | --- |
| Monday | 8 PM - 6 AM |
| Tuesday | 8 PM - 6 AM |
| Wednesday | 8 PM - 6 AM |
| Thursday | 10 PM - 8 AM |
| Friday | 6 PM - 10 AM |
| Saturday | 2 PM - 10 AM |
| Sunday | 9 PM - 6 AM |