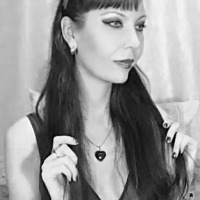 Nioleena earned 9 awards









Personal Details
About Me
My name is Nioleena or simply Leena. I am a graceful, shapely, sensual, lustful, kinky, open-minded Slav girl. A sexy webcam model and a naughty sexter.

Being a virtual sex worker excites me to no end. I like to make people happy and can say it's my dream job. I am so pleased to do things that you enjoy as well as I do! You are my thrill and addiction, dear lascivious lovers of virtual sex



Apart from sex, both real and virtual, I love indulging in the admiration of good music, the contemplation of beauty and the sense of languor, the dreamy tranquillity...
I also like to read and watch contemporary, hard, dark fantasy, absurdist and surreal fiction, Sci-Fi, horror and good thrillers.

---------------------------
I check my DMs/PMs on here and Twitter almost every day, even when I post nothing. I always answer all your inquiries about booking and purchasing pics or vids of me, a webcam show or a sexting session with me. So don't hesitate

I'd love for you to play with me in a private atmosphere, where you can have me all to yourself.

I LOVE:
-- endearments and rough stuff
-- cam2cam and dirty talking
-- fantasies and role-plays
-- being submissive and obedient
-- being sensually dominant
-- the feel of you controlling my vibratoy
-- sexting and trading pics
-- lots of orgasms, yours and mine

Trying new and unconventional things might be fun and exciting as well, so I am open to new experiences Feel free to share your intimate desires with me, and perhaps I can make them come true for you.
Things I will do
Things I won't do
Items I have available for my shows
Payment Options
My Rules
No meetings in real life, guys. The digital world is the only place where I can be all yours.
No, it's always shaved and smooth.
No, I don't. I use Discord for all Texting/Sexting sessions and Video Calls. It's fully functional on both PC and mobile devices.
No, I am not. I'm single and happy

No, I don't. I accept xHamster Tokens or credit card payments via IndieBill.
No, it's painful and unpleasant for me.
No, nicotine doesn't give me a buzz.
No, thanks. There is a large number of marriage agencies and dating websites out there available to help with your search. Good luck with that.
My Rates
| | Webcam Show | Texting |
| --- | --- | --- |
| 10 minutes | $ 30.00 | $ 10.00 |
| 20 minutes | $ 60.00 | $ 20.00 |
| 30 minutes | $ 90.00 | $ 30.00 |
| 45 minutes | $ 135.00 | $ 45.00 |
| 60 minutes | $ 180.00 | $ 60.00 |
| 90 minutes | $ 270.00 | $ 90.00 |
| 120 minutes | $ 360.00 | $ 120.00 |