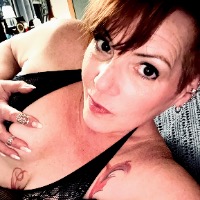 GracieMack earned 10 awards










Personal Details
About Me
After teaching Mathematics for 20 years, I am finally retired and I'm able to enjoy my time to the fullest. I have raised four kids, They're all out of the nest so now I can feed my insatiable appetite for sex through being a part of your fantasies online!


Therefore, I began Cam Modeling in January of 2012. I do it for myself, for my own enjoyment not because I HAVE to. This makes my appearances on the cam site rather infrequent and sporadic. Rest assured though, if you see me online in my home studio room, it is ABSOLUTELY because I want to be there!



There are many things to love about Cam Modeling. My personal "fetish" relates to being involved and being a part of someone else's fetish or fantasy. The additional fact that people are willing to, and actually enjoy paying for time spent alone with me exponentially enhances the HOTNESS factor for me!


I have recently begun doing Skype shows! The rates you see listed in this profile are for pre-arranged Skype shows one on one, Just me and you!!
I desire to be YOUR Fantasy! Not everyone will select me because I won't take on new "lovers" unless I know I can be exactly what you need. I am sexually insatiable. We can talk, we can play, we can do just about anything. My mind is open, I get off on what gets you off! Skype sessions are by appointment. It is actually best is you email me at graciemackenna@gmail.com to discuss Skype sessions. I'm not very good at checking my Skype contact requests. In the subject line of the email, Simply typeCCG Skype Info) You will hear back from me right away. Payment must be sent prior to show start time. You can purchase the 120 minute package and use it over time. Show minimum length is 30 min. I'm not for everyone. Everything is tailored to your desires to the smallest detail. We can discuss your session prior to your package purchase to make sure we're a perfect fit.
Things I will do
Things I won't do
Items I have available for my shows
Payment Options
My Rules
Tell me as much detail about what you need. I get off on being your fetish dream girl.
My Rates
| | With Sound | Your Tailored Fantasy |
| --- | --- | --- |
| 20 minutes | $ 40.00 | $ 40.00 |
| 30 minutes | $ 50.00 | $ 50.00 |
| 45 minutes | $ 70.00 | $ 70.00 |
| 60 minutes | $ 85.00 | $ 85.00 |
| 90 minutes | $ 100.00 | $ 100.00 |
| 120 minutes | $ 125.00 | $ 125.00 |