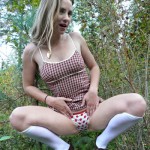 DaisyRay earned 8 awards








About Me
Hi, I'm Daisy Ray from Idaho. I've been in the adult biz for over a decade, I love making fetish content as well as some of the more vanilla stuff too. I do custom made content on a case by case basis of course, so just ask me, don't worry, I won't be offended. I do Skype shows as well, which I prefer to schedule but last minute is fine too as long you don't rush me.
Don't be afraid to ask me if I will do something. The worst that can happen is I will say no. I will never get offended or insulted as long as you are respectful. Instead of having set prices, we can negotiate payment once you have told me the length and type of show you want, assuming I have agreed to do it of course. I prefer scheduling in advance whenever possible(even just a few hours)but by no means does that mean that I won't do spur of the moment shows when I am able. Again, it never hurts to at least ask me. I do have a male partner available for b/g, bj, cuckolding, or virtually anything else that would require a guy. We both are naturals at roleplaying and are comfortable with most scenarios, taboo or otherwise. I love ageplay, particularly ddlg as well as many other kinks.
Things I will do
Things I won't do
Items I have available for my shows
Payment Options
My Rules
Please don't be pushy or expect me to be tied to my computer, I don't have a smartphone which means I don't always see your messages instantly. Other than that, lets have fun and get kinky!

Best way is to message me here or mygirlfund.com/DaisyRay.