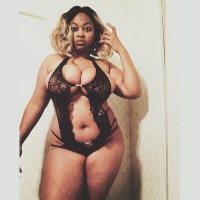 xNiecey earned 3 awards



Personal Details
About Me
Hey, you!

I'm fairly new at camming, about 8 weeks in and I LOVE it! I'm 27 years old and I love all things sexy! I specialize in Romantic Domination and Financial Domination. My style of domination isn't the typical sort in that I love to shower my submissives with love and affection ONLY, however, if my wishes are being fulfilled. I offer Skype shows, nude pictures, non-nude pictures, gifs, custom and non-custom videos, cam shows, Online D/S relationship and more!

I've always had a special interest in sex even before I was sexually active. Though I am not the most sexually experienced girl, I love to indulge other' fantasies and act out a few of my own. My biggest fantasies always involve group sex of some kind. I enjoy watching porn and making videos to turn on all of the people that follow my journey. Nothing gets me off more than the idea of being surrounded by sexy men and women enjoying each other; the sounds and aroma of sex filling the air. Yum!

Another of my biggest fantasies involves being spoiled beyond all recognition. Yes, babies, cash gets me wet! I love the smell of a dollar and even more so the scent of a man wearing expensive cologne as he offers up his finances to a beautiful woman whom he believes deserves the world. Yesss!!! Spoil me rotten and have me forever!

I'm an artistic sorta girl and view sex as a natural art form. Despite dropping out of college due to financial difficulties, I still carry with me a passion for social sciences. I love to delve into the deep side of things and find out exactly what makes people tick! In my free time, I enjoy painting, baking, astrology and taking sexy photos for my followers! If you ever want your astrological birth chart read, I'm your girl!

I love working in the sex industry and hope to make a full-time career out of it. Possibly as an adult film director, full-time dominatrix, sex coach/therapist, or ALL THREE!

All in all I'm just a regular little lady with a Sex Goddess living inside of her. The kind of girl you'd notice in a grocery store awkwardly placing groceries in her cart and living in her own little world. If that interests you, please feel free to send me a message so that we can hook up! I would love to meet you!

All of my shows are performed on Skype or Kik. Payment will be made upfront. I am ALREADY a verified model, therefore I will NOT verify before payment is made.

...we'll have fun.
Things I will do
Items I have available for my shows
Payment Options
Status Feed
My Rates
| | With Sound | Without Sound |
| --- | --- | --- |
| 10 minutes | $ 30.00 | $ 30.00 |