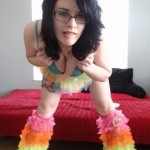 nickisunshine earned 7 awards







nickisunshine has 16 fans
Personal Details
About Me
I am a transfer from Illinois to Minnesota so camming has directly correlated with my new life and independence. I tried the college thing but it wasn't for me. I was originally pursuing a BFA in Photography.

Now I work in retail while I figure out what I want to do with my life. I love my job, though. In the past few years I have gotten 2 tattoos and 7 piercings, but I want MORE!



I love animals and cooking, but not cooking animals. I've been a vegetarian for about 7 years.
Things I will do
Things I won't do
Items I have available for my shows
Payment Options
Status Feed
My time is valuable to me, and should be to you as well. This is how I make most of my living.
No. Paypal is not adult friendly and people have attempted to scam me with paypal in the past. There are plenty of other options to use. I will not make any exceptions.