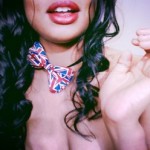 laceylala earned 6 awards






Personal Details
About Me
I am LaceyLala or Chloe May. I like to play, hike, and read fairy tales. I'm a lover, a fighter, and a cupcake enthusiast. I like refreshing things like playing my ukulele naked and surprise orgasms in the morning. I have my degree in Psychology and I love to pick people's brains and find out what makes them happy too. The best feeling in the world to me is brightening someone's day.

I'm a 5'7" American lady with a love for colors, wigs, and panties. I love to smile, dance weird, and figure out which of my boobs is the bigger one. I have skin the color of a latte, and sweet, brown eyes.

I am a sweetheart and I can't wait to make your day.

I'm in the business of making you happy.
Things I will do
Things I won't do
Items I have available for my shows
Status Feed