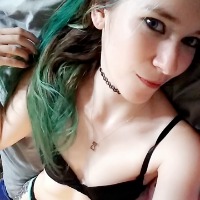 TabbyKatCafe earned 7 awards







Personal Details
About Me
I'm an adventurer. Be it in real life outdoor recreation or in books I absolutely crave excitement and adventure. Travel is my passion. I love animals and ultimately want a career working in the science field of zoology. I'm a gamer, my favorite is the BioShock series. My console of choice is PS4. I'm also a huge anime nerd and can suggest an anime for almost any genre. I also love cosplaying and comic books. I'm crafty and love to crochet as well. I also love vintage cars and my ideal dates usually involve shooting ranges.
I'm a kinky down to earth girl who likes to keep things hot and fun. My shows can either be planned parties or spontaneous hang out sessions depending on the mood
Things I will do
Things I won't do
Items I have available for my shows
Payment Options
Status Feed
Absolutely! check out my manyvids or amateurporn links! Always message before purchase though
Yes with my plugs and fingers! or for a higher rate with my glass dildos!