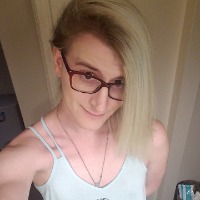 Personal Details
About Me
Hi there, my name is Mina! I am a kinky and geeky trans girl.
*
*
I accept all friend requests!
*
*
Any individual or organization using this site, or associated sites, may NOT use any information, pictures or any other material I have posted anywhere on FetLife, whether presently or in the future, for any purpose whatsoever without my express permission. Any breach of the above will be subject to legal ramifications.
*
*
I enjoy reading books/comics, drawing and playing video games. Always up for talking nerdy. I mostly enjoy talking, hanging out and enjoying the company of others.
*
*
Please do not use the term shemale, sissy, crossdresser or tranny around me. This will cause the ban hammer to come down on you.
*
*
I am a big fan of roleplay, spanking, oral, bondage, being a brat, and fun overall. My hard limits are urethra play, calling me a man/sissy, bestiality, scarring, branding, diapers, scat, or blood play.
*
*
If you have any questions, please ask!
*
*
Chaturbate -> https://chaturbate.com/mysticminaxxx/
Fetlife -> https://fetlife.com/users/7927271
Twitter -> https://twitter.com/MysticMinaxxxx
Tumblr -> https://mysticminaxxx.tumblr.com/
Amazon-> http://a.co/e1sN0ud (work in progress)

== Results from bdsmtest.org ==
100% Brat
100% Primal (Prey)
100% Boy/Girl
99% Ageplayer
99% Rope bunny
98% Pet
98% Experimentalist
91% Masochist
85% Non-monogamist
84% Submissive
74% Sadist
68% Degradee
67% Voyeur
64% Exhibitionist
61% Slave
59% Switch
54% Master/Mistress
50% Degrader
48% Primal (Hunter)
43% Owner
43% Vanilla
43% Rigger
40% Daddy/Mommy
30% Dominant
http://bdsmtest.org/r/6522629


Hi there, my name is Mina! I am a kinky and geeky trans girl.

Always up for talking nerdy. I mostly enjoy talking, hanging out and enjoying the company of others.

I am a big fan of roleplay, spanking, oral, bondage, being a brat, and fun overall. My hard limits are urethra play, calling me a man/sissy, bestiality, scarring, branding, diapers, scat, or blood play.
Things I will do
Things I won't do
Items I have available for my shows
Payment Options
Status Feed