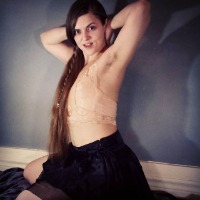 GoddessClaes earned 10 awards










Personal Details
About Me
Do you love Bright Eyes? Small Tits? Hairy Pits? How about effervescent, compassionate and fair, yet still firm, dominant and assertive? These are all qualities that you can find, right here!

Hi! I'm Claes Cummings, a spunky, 20-something Orgasm Artist, Hirsute Fetishist and Benevolent Goddess. Let's explore your fantasies, desires and fetishes together. Whether you're just a nice guy looking for some fun or a submissive looking for a nurturing Goddess to serve, I'm into both! Request a Skype Show and let's play!

Not only do I offer cam shows but I also provide custom videos, photosets and audio recordings. So if you're hot for Claes when I'm not online you can always get off with a video or photo made just for you!
So why are you waiting?!
You've found what you've been looking for!
Request A Show or Content & Cum With Me!
Official Website


I have three different tiers of Show Categories; Vanilla, Hardcore & Fetish. Their intention is to help you decide what you want to do and ensure you're paying/I'm being paid, a fair amount for the desired show.

Please Read My F.A.Q for more info on Show Categories - Vanilla, Hardcore & Fetish

I am not interested in being a submissive or performing for "Alphamales". I do not listen to demands and must be shown respect at all times. If you do not politely ask, you have no chance of getting what you desire.

For Kinks I am interested in a wide variety of Fetishes and love trying new things, so tell me what you're into!

For Submissives: I enjoy many different types of Femdom, but my favourites are; JOI, CEI, Orgasm Control/Denial, Chastity & CBT.
Things I will do
Things I won't do
Items I have available for my shows
Payment Options
Status Feed
My Rules
1. Request Show via my Website & wait for Approval. If your request is approved, payment must be sent before the show starts.

2. ABSOLUTELY NO - I.O.Us, Gift Cards for Payment, Animal Abuse or Scat.

3. Butt Plug Anal Only- Begging for more than that will end your show.

4. I am NOT Submissive. I like to perform and entertain during cum shows, but I will not go beyond my comfort zone and follow rude demands.

5. Email, Message or Request a Show via my Website, if you are interested in a show. Wait for confirmation Email before sending payment for your show. Premature Payments Will Not Be Refunded!

6. Do not call me 'BB', Girl, Cunt, Slut, Whore or any insult. Exceptions; If you are my Sugardaddy, you may call me Baby or Baby Girl.

7. ALWAYS TREAT ME WITH RESPECT! Cam Girls are a luxury service, it is NOT FREE, do not expect me to give you something for nothing or sex-slave prices.

8. Be Friends With Me! Tweet Me, Facebook Me, Tumblr Me. I want to get to know the NON perverted side of you. The awesome person you are & I guess being a little perverted is okay too. haha

*Please Note* Being my friend does NOT include; Sending Uninvited Dick Pics, Getting/Asking For Freebies, Getting Special Deals, Possessive Rights To Me and/or My Time, Entitlement or Bragging Rights. I am, of course, speaking out of past experiences.
I prefer that payments are made via the Skype Shows page of my Official Website or via SkyPrivate, I enjoy this method due to it being pay-per-minute. You only get charged for the time you're with me, to me that's better than flat rates just in case something unexpected happens.
No, it is a 'Gift' card for a reason, to be gifted. You can send Gift Voucher or Purchase Gifts for me from my DeliveryCode Wishlist
Strip Dances, Fingering, Small Toy Play, Dildo BJs, Ass & Titty Worship, Clothed Smoking, Hand Spanking, Small Vibe, G-Spot Vibe, Clit Vibe, Balls On Cord, Chinese Balls. (Also Available For Hardcore & Fetish Shows)
Dildo Penetration, Medium Vibe, Butt Plug, Hand Cuffs, Shackles, Riding Crop Spanking, Role Play. (Also Available In Fetish Shows)
J.O.I, S.P.H, Orgasm Denial, Hand Worship, Period Play, Smoking w Nude &/or Penetration, Financial Domination, 420 Tokes, Speculum, HUGE Dildo, YOUR FETISH HERE!
Anal- Butt Plug Only, DP- Yes with Butt Plug & Thin Vibe only, Squirt- Yes, can't force it though, Panty Stuffing- No, Fisting- No
Did you tell me where you found me inside the request? No? Then re-send the request and be sure to add that you found me on "CamGirlCollective" or any other site you found me on. Rarely do I accept random Skype Requests.
Why are you so cheap? Honestly, my rates are very reasonable. If you want a cheap show, you'll get cheap sex & half-assing it really isn't worth my time.
My Rates
| | Vanilla | Hardcore | Fetish |
| --- | --- | --- | --- |
| 1 minutes | $ 3.00 | $ 3.50 | $ 4.00 |
| 10 minutes | $ 30.00 | $ 35.00 | $ 40.00 |
| 15 minutes | $ 45.00 | $ 52.50 | $ 60.00 |
| 20 minutes | $ 60.00 | $ 70.00 | $ 80.00 |
| 25 minutes | $ 75.00 | $ 87.50 | $ 100.00 |
| 30 minutes | $ 90.00 | $ 105.00 | $ 120.00 |
My Schedule
| Times are EST | Time |
| --- | --- |
| Monday | 11 AM - 4 PM |
| Tuesday | 11 AM - 4 PM |
| Wednesday | 11 AM - 4 PM |
| Thursday | 11 AM - 4 PM |
| Friday | 11 AM - 3 PM |