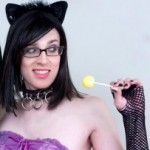 CrystalSopen earned 7 awards







Personal Details
About Me
About me:
I am a pre-op, approx 7 in cut, 5' 10'', physically fit, versatile (I am 100% into topping and bottoming) transsexual adult performer. I have small natural breasts. Dark brown hair, blue eyes and wicked smile round out my look. I have done a couple porn scenes, but I am not a famous pornstar. I am easy to talk to as I am down to earth, open mined regular person who loves what she does and loves making people happy.

I don't always do bdsm.
On the BDSM side of things I'm a switch (I can take the role of of dominant or submissive) who loves role play.

As a Domme ...
I'm a cruel tease who sometimes takes control and humiliation further than expected but always where my subs truly want to go. Whether I'm receiving the first bj, that grown man has ever given or topping a straight guy or telling your friends about what you begged me to do with, I know in my heart I'm giving my sub(s) exactly what they need. And that is the hottest part. Sure you can get away from me and say you don't want this, turn off your computer, and go back to "regular girls". But lets face it, you're here reading about me in a Domme role because you want me to do something to you. So buy my videos and enjoy them or book a private show.

As a Submissive ...
There is also a submissive side to me that craves giving up control to a person who will pamper, and care for my every need. Someone successful, kind, mature, and confident who would keep me almost like a pet or a human sextoy.

Tech info on clips
I record my clips in 720p. HD video is essential because it allows you to really see what I am working with. They are solo and done with a single cam unless otherwise noted.


The types of shows I do include Cum shows, Domme shows, sub shows, and various other fetishes. I am a normal person who does freaky things.
Things I will do
Things I won't do
Items I have available for my shows
Payment Options
Status Feed
My Rules
Basically do not do anything Illegal or really dangerous, so...
I do not escort,
No blood,
No animal stuff (furries are ok),
No age play.
No family play.

My Rates
| | With Sound | Without Sound | Domme Session | Cum Show |
| --- | --- | --- | --- | --- |
| 15 minutes | $ 15.00 | $ 15.00 | $ 20.00 | $ 20.00 |
| 30 minutes | $ 20.00 | $ 20.00 | $ 25.00 | $ 25.00 |