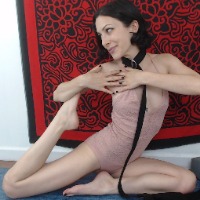 virtualsub earned 9 awards









Personal Details
About Me

Hi! I'm Anouk aka virtualsub, your online submissive for hire! I'm very sweet, but also very kinky. I am a switch but am in a submissive mindset almost all of the time. My strongest fetishes are exhibitionism, masochism, and degradation/humiliation. Ask me about my other fetishes, my mind is open and I love to try new things.

Camming, phone sex, sexting, and making erotic videos are not only fun and sexy for me but they give me a chance to be creative and make someone happy. Erotic work helps me transcend myself, and I provide an authentic experience. I adore being able to blend artistic creativity, the freedom of self employment, and my true kinky nature into one.

I self style and self shoot my photos and videos. Despite not having all of the equipment and technology I want at this time, I love trying to create beautiful work out of what I have. Thank you for visiting my page! ♥

All of my shows are BDSM themed. Being submissive is second nature to me and living the BDSM lifestyle is very important to me. I love being taken into private shows to be trained as a sub 1-on-1. I also love being a submissive outlet for someone who is not currently living the lifestyle but wants to engage in BDSM, and I really love it when I get to regularly meet with Doms who I feel connected to.

I love pain (spanks, rubber band snaps, paddles, floggers, hot wax, etc) and I consider myself a masochist. I love humiliation and denial and the feeling of embarrassment, shame, and arousal all at the same time. I love to be ordered about and given assignments and tasks. I love Dominants that are creative, compassionate, intuitive, and somewhat sadistic. I get a deep sense of pleasure from serving. My shows will continue to evolve as I grow and upgrade my equipment but I strive to always maintain my authenticity and remain driven by my passion for service.
Things I will do
Things I won't do
Items I have available for my shows
Payment Options
My Rules
♥ No anal
♥ No activities deemed to be illegal or against the rules of any sites I am available on
♥ No Skype/C2C/cam sharing
♥ No meetup/location talk
In 2009 as a 19 year old college student I was trained 1 time by a married male BDSM couple. That night was my first introduction to slave positioning, and during the session I was given orders, hogtied and photographed, and flogged for my punishment. It was my first sub space and one of my most sacred memories. In my long term relationship since then, I am submissive, playful, sweet, and kinky. My Master is enduring, nurturing, and evolving with me. I have used many BDSM related toys and enjoy the ones that inflict pain. I consider myself a pain slut and I love to cum. When I started camming again in 2017 I encountered a wonderful Dom/switch who trained me for a couple months. Our focus was edging/denial/orgasm control and I loved it. My ideal time online would be with people who want to take me private to have 1-on-1 BDSM sessions with me as the sub

No. It would be an extremely rare experience for me to dominate someone online and feel a natural urge to do so. I feel much more natural as a submissive when camming. I rarely switch in my real life and I don't feel confident in my dominant side. I'm not experienced as a dominant partner and I don't enjoy doing it online to others, which I have before. It's much more authentic of me to be submissive and I do have experience as a submissive that I feel confident about.
No. Skype is not necessarily an adult friendly place to have private shows, and I prefer the security of the sites you can find me on. Payment wise, and in regards to my time, it is better for me to stay on Cam4, Streamate, or NiteFlirt.
I have a couple reasons, but it's mostly because I am not medically advised to do any anal play, and my anatomy doesn't make it easy or healthy for me. It's all for health reasons, and I used to enjoy anal sex and anal play before things changed.
My Rates
| | NiteFlirt Calls Per Min. | NiteFlirt Text Per Volley |
| --- | --- | --- |
| 1 minutes | $ 1.99 | $ 0.69 |