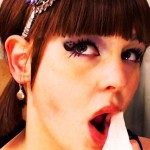 TheLydiaRyder earned 6 awards






Personal Details
About Me
Hello! I'm a fun, feisty, fantastic nymphette. I am eloquent and educated, unshaven and free-spirited. I love to indulge and tease, bringing myself to orgasm right before your very eyes!
Pussy play, sloppy bjs, orgasms, toy/position requests. Specific fetishes (ask first). C2C. GFE. Name moaning. Personal attention. Squirting copiously. Lite anal in block sessions.
Things I will do
Things I won't do
Items I have available for my shows
Payment Options
My Rules
Don't be a douchebag. Ask if I do something before a show, not during. I love compliments, but tips and treats will get you further.
I will start out by saying I will do nothing that emulates anything illegal. I won't even humor the idea. However, if you have another kind of fetish I am more than happy to consider it. If I cannot, I may be able to find someone who can! Don't be shy, there is no judgement here.
I have not yet mastered the art of deepthroating. However, I can certainly make up for lack of depth with tons of sloppy and delicious mouth and tongue. I can definitely do a gagging show, but please only in block sessions because after we're done I'm definitely going to need to clean up a little!
The answer is yes and no. I will not do deep anal penetration. For regular customers only I will do light finger play and may even whip out my beautiful jeweled anal plug!
My Schedule
| Times are EST | Time |
| --- | --- |
| Monday | 2 PM - 6 PM |
| Tuesday | 2 PM - 6 PM |
| Wednesday | 2 PM - 6 PM |
| Thursday | 2 PM - 6 PM |
| Friday | 2 PM - 6 PM |
| Saturday | 2 PM - 6 PM |