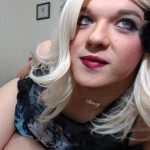 StacySadistic earned 6 awards






Personal Details
About Me
Greetings slaves. This is your mistress, Stacy Sadistic. Bow down in worship of my ravaging beauty, supreme intelligence, female superiority and mastery of all things kink. If you truly want to garner my attention, and be considered for a place in my stable of slaves, you can send me a message on KinkLive including a sufficient monetary tribute:
•http://beta.kinklive.com/kink-live/#m=show.53196

You may begin your training with one of my many instructional videos available at KinkBomb.com:
•http://www.kinkbomb.com/studio/stacy-sadistic

Lavish me with gifts, and have the privilege of seeing me post photos of them on my fetlife, mentioning your username:
•http://amzn.com/w/HFLSWUHOGX0K

Hello boys and girls This is your mistress, Stacy Sadistic here. I'm a pro-domina based out of Phoenix, Arizona. I'm active in the local fetish scene, and have over 5 years of experience as a professional dominatrix. Let me know about all your kinkiest fantasies. I'm very open minded, and would love to chat with you about one of our mutual kinks. Roleplaying is my absolute favorite. Show your respect, and listen to what I say.

The following are some of my specialties: SPH, CBT, JOI, Verbal Abuse, Hypnotism, Humiliation, Bondage, Forced Submission, Cuckoldry, Femdom, Chastity, Flogging, Breath Play, Anal, Gangbangs, Group Sex, Forced Feminization, Forced Homosexuality, Forced Sissification, Being a Bitch, Teasing, Spanking, Domination, Taking it in the Ass, Striptease, Ball Licking, Punishment, Fucking Hoes, Sucking Dick, Talking Shit, Not giving a Fuck, and Making U Cum Hard.

Some of my favorite roleplaying scenarios include: Mistress/Slave, Doctor/Patient, Boss/Employee, Mommy/Baby Boy, Mommy/BabyGirl, Drill Sergeant/Soldier, Teacher/Student, Daddy/Babygirl, Boss/Secretary, Boss/Maid, Coach/Player, Celebrity/Paparazzi, Cop/Criminal, Pastor/Churchgoer, Photographer/Model, Realtor/Buyer, Masseuse/Client, Flight Stewardess, Pizza Delivery Girl, Waitress, Fitness Instructor, and Babysitter.
Things I will do
Things I won't do
Items I have available for my shows
Status Feed
My Rules
I don't do anything illegal.