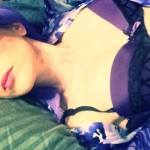 PurpleKitty22 earned 6 awards






Personal Details
About Me
Hi! I*m P.K. I am working on my Masters in Research Psychology with a focus on human sexuality. I have decided to start camming to do my own research and to have fun getting to play a bit and be as sexy as I can be. I love to pain, read, watch movies and I love my HBO! Come find me on Chaturbate and let's have some fun Xoxo

I'm a non-nude model interested in the art of human sexuality. Sexy doesn't *have* to mean naked. I love to be spanked, get to know the people I meet, dance, have fun, and just learn about human sexuality. I will not show my vagina or breasts. I will have fun making you want me to.
Things I will do
Things I won't do
Items I have available for my shows
My Rules
No total nudity. That's a line but there is a lot I can do before I get to that line.