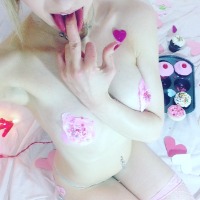 PixieMoonbeam earned 8 awards








Generally relaxed and easy-going Hangout, Chat, Tip Menus and Goals! Private chat always available as well. I am open-minded and won't judge so don't be shy, come say "Hi"!
Things I will do
Things I won't do
Items I have available for my shows
Payment Options
My Rules
I don't have any rules but you'll KNOW if you broke one. ;D
You can send an Amazon Gift Card to pixiemoonbeam@pm.me
Private Messaging is reserved for tippers only
I am willing to negotiate if you have something specific in mind
I do not give out my address or use wishlists but if you would like to send an Amazon gift card I accept those! If there is a specific item you would like to gift me, just let me know and I'll make sure it is purchased!
The social media websites and apps listed here are the only ones I currently use!