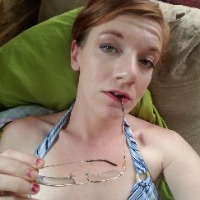 PhoebeDivine69 earned 4 awards




PhoebeDivine69 has 3 fans
Personal Details
About Me
First and foremost I want to hear about your day. I give a shit and love to listen. Passionate, articulate, warm, and kind, I've heard told I'm easy to talk to. I try to be funny, compassionate, and supportive. I pride myself on being a good friend.

I'm an eager to please submissive - I'll do and wear what you want how you want it. I want to play with my toys for you, ask nicely for spankings and thank you for each one, and beg for permission to cum.

I've spent 5 years in long distance and 6 years in face-to-face BDSM relationships so I know what I'm doing. I'm well versed and/or open to most kinks. I'm honest when I don't know and I am willing to learn. I live for your guidance. I'm obedient and I love to serve. I want to be your good girl.

I'm also an exhibitionist and I love putting myself on display for you. Tell me what you want to see - cosplay, panties, costumes, hairstyles, fetish get ups, and so much more. I absolutely love to dress up for you.

I want to get to know you, hear about your day, listen to your fantasies, keep your secrets, and make some of those dreams of yours come true.
I love pulling my clothes off and running my hands over my soft skin as I look up at you. I want to touch myself for you. I can be a very good girl. I have all sorts of fun toys for you to use on me and I'm very good at following instructions.

I love to include you in the fun -- in private shows I WANT you to turn on your cam. It's so much sexier when I can see and hear who I am playing with!

Focusing on your pleasure is what I am here for. I'm open minded and eager to please. You can tell me your fantasies -- the more specific you are the better it will be for both of us.

So come play with me & find out just how good I can be... 😘
Things I will do
Things I won't do
Items I have available for my shows
Payment Options
Status Feed
PhoebeDivine69 wrote 2 months ago

Just updated my Camgirl Collective profile from my n00b descriptions to something palatable. Also: I've joined #NiteFlirt & #ManyVids! Give it a peek, pretty please?

PhoebeDivine69 wrote 4 months ago

Gonna be on with my wife PrismStone on @MyFreeCams later at mfc.im/PrismStone -- Cum play with us!

PhoebeDivine69 wrote 4 months ago

what an incredible show I just did with xoxoPrismStone on @MyFreeCams - can't wait till next time!
My Rules
Don't be a douche.
Yes, on SkyPrivate: http://pvt.show/f/gig5-phoebe-divine/
Yes! PM me and we will chat about the details.
My Rates
| | Vanilla | submissive | Roleplay | Fetish | Cosplay |
| --- | --- | --- | --- | --- | --- |
| 1 minutes | $ 1.50 | $ 3.00 | $ 1.50 | $ 2.00 | $ 2.00 |
| 30 minutes | $ 35.00 | $ 75.00 | $ 40.00 | $ 55.00 | $ 55.00 |
| 60 minutes | $ 50.00 | $ 150.00 | $ 60.00 | $ 100.00 | $ 100.00 |