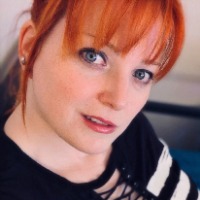 PersephoneDream earned 7 awards







PersephoneDream has 4 fans
Personal Details
About Me
Come and explore the depths of devotion. The sweet surrender. Together we will find all the pleasures of Heaven, all the desires of hell.

Your devotion is what I require. My adoration is what you need.
Bring me your fun kinky ideas baby so we can play!

If variety is the spice of life, then it's a must for sex. My fantasies are always changing. I happen to love hearing and playing off of the ideas people bring to me. Nothing is more intoxicating to me than adding me own unique spin on an idea already built by someone. When I can make it unique and better I'm over the moon, happy.

Is our date going to be a fun experience were we cum and have some general naked excitement? Naked is good. I believe sexy fun should be exactly that fun and sexy. I'm never too serious and will always make a random silly comment or even action, goofy is never far away in my world. It's who I am, I will have a blast and bring you along for the fun.

Are you thinking about a fun laid back hang out session? What are we going to do? Conversation is always good. Flirting and teasing would be fantastic too! Fetishes can be a fun date too. Dress up is one of my favorites. Are you showing off your style and skills to me? I'd love to see those panties. Or, am I showing you some great legs and feet. Do you love seeing a girl in heels? or should I just wiggle to music. So many options so little time!

Are you more interested in power play. I'm a switch so I love both options. Let's explore your fantasies and see where domination and submission can take us. I love giving up control and allowing someone show me the joy of surrendering to their will. Although having someone surrender to me is just as sweet. Bring me your fantasies and desires let's explore where we can take each other.

Share with me some of what makes you a unique sensual person so we can make your fantasies a reality.
Things I will do
Items I have available for my shows
Payment Options
My Rules
Rules all depend on the show. But be respectful, and talk about what you want. If you talk to me there's a chance I'll be up for you fantasy.
My Schedule
| Times are EST | Time |
| --- | --- |
| Monday | 7 PM - 4 AM |
| Tuesday | 7 PM - 4 AM |
| Friday | 6 PM - 4 AM |
| Saturday | 8 PM - 4 AM |
| Sunday | 8 PM - 4 AM |