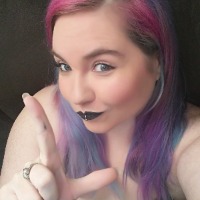 Persephone earned 6 awards






I'm 2012 BBWFanFest's Fetish Site of the Year nominee, as seen in June 2012's Big Butt Magazine's 11 page spread, trainer of newbs, full gender transformation consultant/Dominatrix, hentai princess, succubus, troublemaker, nerd & vixen distraction.
Typical Options for most sites:
Private: Pussy, ass, Tits, Mild Fetishes, Anal w/toy, DP, Domination, bondage, ballgag, outfits for those who've purchased gifts off my wish list.
VIP/Excl: Outfit Changes (Leather, vinyl, costumes, lingerie, stockings, heels, boots), Hardcore Fetishes. Phone on Streamate. Couples or 2 girl 3some on AllBBWCams, Chaturbate or ImLive. Members with over $50 in credit on most sites may request VIP Shower shows or VIP Bubble Bath Shows a few minutes in advance. I also offer fucking machine shows for a tip in addition to VIP/Excl, or with Block Show Bookings on Streamate.


Come join the cult! ^_^
Things I will do
Things I won't do
Items I have available for my shows
Payment Options
Status Feed
Persephone wrote 7 years ago

man I haven't been here in a minute. lol
My Rules
Despite having done this for a dozen years now, I flat out don't act. It got boring fast. I'm Me, and I assure you, that's plenty sexy enough. This means I don't offer roleplay, I don't do scripts (or anything even remotely resembling something that can't be improvised), and that you shouldn't feel bad if you can't make me cum. I love to, but it takes time and patience. I live with and am dating a couple (a gentleman and a lady), and they're both available for shows when pre-arranged.
I live in the Portland, Oregon area, though I occasionally travel to Atlanta. I have a passport, and will travel anywhere where travel is paid in advance. I also require $200/hr for my social time, regardless of whether you want to hang around your place & play video games or take me to a strip club. You'll be expected to cover all expenses (dinner, movie, tips to strippers, etc) on top of my cost. I'll be flirty, friendly, & accomodating, however I will absolutely not stand for any rudeness, vulgarity, groping, or sexual expectations. You're welcome to pay your balance in cash upon arrival, however I will not arrange for any meet without a 25% deposit via some online source (or at least one hour's expense, whichever is more). If you're just trying to be stealthy, go take your cash down to your local Walmart, Walgreens, CVS, or Safeway and ask for a "Green Dot MoneyPak Refill" - they'll put your CASH (no debit/credit) onto a cardboard thingy, and you can just email me the code on it to refill my prepaid card.
Sure, however literally 100% of the people that claim this all refuse to go through the necessary steps for me to even remotely discuss or consider this proposition. You absolutely MUST submit an email containing EVERY SINGLE ONE of the following answered questions, and must email from a COMPANY EMAIL: Name of Company, Approximate Models Filmed, Three Model References, Location of Shoot, Date Range for Shoot, Length of Time Model's Requested for Shoot, Headshot of any and all potential co-stars, and offered maximum hourly or flat pay rate. I require all travel be paid in advance (you're welcome to book my ticket for me once you've confirmed who you are, then prove you've booked me a hotel room BY MYSELF for the length of the shoot). I also require $120 up front to cover my up-front beauty-related costs (Hair ReDye: $70, Nails/Eyebrows: $50). Its worth noting that I've been made offers by PlumperPass, CJ Wright, & Rodney Moore, but have declined all of these so far. If I launch into mainstream after this long in my career, it'll be for just the right offer. Besides, almost every single person to have ever claimed this was just some chump with a fantasy, under the impression that all camgirls are naive idiots.
Regardless of whether you're a professional or just some horny guy, it'd still end up costing you $1500/hr+, and would be filmed ONLY. I won't even discuss your ridiculous fantasies about anything, especially not this, without you completing a pre-screening form & submitting a 25% deposit, 80% of which being refundable within 24 hours of deposit paid if you're denied or do not agree to the terms then laid out. Email Me if you'd like to view my information page & basic vague FAQ on that.
No. If you're not capable of using google and finding them yourself, all I can offer you is that full 50+ piece HD photosets are available for just $1.99 each set at http://photos.QueenOfCascadia.com - you're always welcome to check out my fifteen latest free HD samples at http://www.QueenOfCascadia.com then hit 'photos'.
I deny all skype requests from people I don't know, unless they specifically mention in their request that they are looking to purchase a camshow. Why? Because idiots on my buddy list can video call me repeatedly, and don't understand the meaning of "NO FREE SHOWS!". I keep my text/IM feature open to anyone and everyone on there though, so unlike most, you do not have to add me to talk to me - simply IM me there first.
I will not respond to anyone on KiK that has not paid in advance $25 per week. During your week, you will receive unlimited back-and-forth texting between us (dirty, social, & anything in between), as well as at least an average of one cell snapshot per day. This is my only option for texting my phone that does not bill you per message. I do not offer phonesex anywhere. If you'd rather be billed individually per message, use the ExtraLunchMoney link, then hit "Send Text" on the right under my icon photo.
Unless you're an active member of CamGirlKitten.com or QueenOfCascadia.com, I only take custom photo requests if they're brief (say 10 photos or so) & you don't mind a vaguely messy location. I give strong preference to those that book at least three full 50pc photosets together to cover the cost of a $150/nite hotel room so that I can shoot in a more professional, upscale setting. If your request is outside based, I'll be happy to do it as you wish.
yes, but they're usually around $10/min, and will not be exclusive to you. They will be for your personal private use only, and while your name may be in them upon request, I'll still usually offer them up for sale in my collection to draw in more fans with kinks just like yours. If I get additional fans of this sort, I'm likely to do similar videos in the future and offer them up for just my cheap $1/min rate! If your request requires a prop or outfit that I do not have, just gift it to me on amazon, and upon arrival of the item and my fee, your video will be completed in less than 30 days. No, that's not a typo. For messy/gloop fetishes, pillow popping, & anything else messy, there's usually store item charges AND clean up fees in addition to the video cost. Feel free to contact me for a specific quote, however it's extremely rude to do this without planning to book that day.
Probably. My current collection amasses around 320 full videos and an additional 100+ recorded live sessions from my Rude.com days. These videos cover all varieties of solo shows, boy/girl couples with around 25 different gentlemen across 60 couples vids, 10 lesbian videos, & 10 3some videos (both Male-Male-Female and Male-Female-Female). If you would like access to my entire collection without downloading anything, purchase Me a 64GB Flash Drive off my Amazon Nerdities list, then send me $50 and I'll be happy to mail you the flash drive complete with the whole shebang. Otherwise, your best bet is individual purchase through Clips4Sale, package deals through me, or a membership to CamGirlKitten.com , where you can view them all (complete with icons & descriptions) then view or download them at will, depending on your browser settings for the handling of .wmv's. I've also covered a huge variety of fetishes, including but not limited to pregnancy, lactation, feet, scuba, pedal pumping, wet clothes, bathroom (only available for a premium rate individually), hands, spanking, Domination, cuckolding, financial domination, sitting/squashing/human furniture, prostitution & young schoolgirl roleplays, strap-on on female, strap-on on male, smoking fetishes (both green & cigarettes, as I live in a recreationally legal state), light anal, big anal, anal beads, DP, fisting with fist toy, & others. I've even dabbled in racial & religious humiliations of various kinds, public nudity, foot crushing/stomping, & gloop/messy fetishes.
I usually have at least a couple different options for this if pre-arranged, but the most common one (and the one I live with) is seen here with both myself and our girlfriend: https://flpics1.a.ssl.fastly.net/421/421046/0004e70c-35ea-b412-93d4-f6a5cd8fbf26_720.jpg - He's 27 years old, 5'4, 140lbs, and has an 8-9" dick, depending on how quickly we get to the fun stuff. He's no good at cumshots on camera (too shy usually), but he's always eager to help with quickies, and is even bigger soft than most men are hard. His preferred cumshot is always internal anyway. He's happy to fuck me all day every day as you wish for shows, he just may not be at 100% full mast for the whole show. He's also very open minded, and while he has no major fetishes of his own, he's happy to help cater to yours, including kinks like strap-on, toy play, bisexual fantasies, foot play, & most unusual fetishes as well, as long as it's for the right dollar amount.
At the moment my female partner can be seen here: https://pbs.twimg.com/media/BTV7ZlRCMAALO_v.jpg- she's 34DD-32-36, 5'2", 140lbs, very shy, very submissive, and completely new to camming. She really lets go in longer shows, and lights up like no other I've seen when being watched while orgasming repeatedly. I fully encourage you to get at least 20 minutes so I can properly make her wake the neighbors. She will not usually show her face in any free manner, nor in most videos, however live personally between us in a show she will. Be respectful - she does this because she enjoys it, not for the money.
Because I'm a professional, not an amateur. You're not getting some little 18 year old that's just purchased her first webcam and has no idea what to do in front of it. You're getting a well-known veteran camgirl that knows exactly how to handle our time together. No point of it will be wasted, I will always make the most of anything we do together. You get to direct (from my positions to the camera angles) as much or as little as you'd like, but I'm very good at providing a show that you can just sit back, relax and enjoy as well. I'm extremely proficient in rare fetishes, and tend to prefer to do those rather than standard 'strip, pussy play, light anal' shows, and this expertise costs money. If you don't wish to pay my rates, you're just going to go to an amateur, and when she can't get you off like I can, you're just going to end up paying me anyway. Do it right the first time!
No. Now that I'm at this stage in my career, I'm strongly steering away from live webcam. The few live webcam shows I'll offer will be exclusively at a premium rate. The only way to get a discount on this rate is to purchase larger chunks of time, even if they're not all used at once. If you only wish to pay $2/min, purchase a 60 minute block then use that with me over the course of a month.
Not ever, not once. I literally in 12 years haven't ever done a single free show for anyone at all. I even turn down people I'm dating for this! Yes really. Even if you were the man of my dreams, I'd still tell you to pay for My time. I'm a professional, and this is my sole job. There is no instance in which I would do this recreationally.
As of 12/09/13, 40D-38-53 - this varies very little usually.
Not usually, though rarely for regulars, and always for physically shipped items. Paypal is so not adult friendly that they ban and keep money if anyone even complains about you, which is why most of us reputable camgirls refuse. While we appreciate that you'd rather us have almost all the money, we'd rather fork over a few extra bucks and get to keep it all. It only takes one shitty customer to ruin six months of hard work.
No. Google me, bitch. Twelve year veteran with verifiable screennames, and a trademarked name.
My Rates
| | Solo | Fetish | Boy/Girl | Lesbian | 2 Girl 3Some |
| --- | --- | --- | --- | --- | --- |
| 5 minutes | $ 20.00 | $ 25.00 | $ 25.00 | $ 30.00 | $ 35.00 |
| 10 minutes | $ 40.00 | $ 50.00 | $ 50.00 | $ 60.00 | $ 70.00 |
| 15 minutes | $ 60.00 | $ 75.00 | $ 75.00 | $ 90.00 | $ 105.00 |
| 20 minutes | $ 80.00 | $ 100.00 | $ 100.00 | $ 120.00 | $ 140.00 |
| 30 minutes | $ 90.00 | $ 120.00 | $ 120.00 | $ 150.00 | $ 180.00 |
| 60 minutes | $ 120.00 | $ 180.00 | $ 180.00 | $ 240.00 | $ 300.00 |
My Schedule
| Times are PST | Time |
| --- | --- |
| Tuesday | 11 AM - 5 PM |
| Wednesday | 11 AM - 5 PM |
| Thursday | 11 AM - 5 PM |
| Friday | 3 PM - 9 PM |
| Saturday | 6 PM - 10 PM |