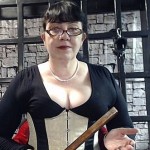 MsBrigitte
Be careful of what you wish for. You might just get it.
48 · female · United States
Statistics: 331 visitors, 3 fans, 5 awards
MsBrigitte earned 5 awards





Personal Details
About Me
I am an experienced, mature real time mistress with a sexy French accent.
I am well versed in all aspects of S&M and B&D and cater to most fetishes. I cater to most taboos including showers and age play with very few exception such as racial humiliation.
Note that while I will talk about some taboo subjects such as zoophilia, age play or necrophilia it is role play and fantasy only


I do not have a set camming schedule so it is better to contact me in advance to arrange an online session.

Depending on the type of session, I broadcast either from my dungeon or from my bedroom for those who are into a domestic setting.

My style of dominance tends to be more nurturing and I do have a wicked sense of humor but I can also be very strict and stern when needed.

You have the privilege to serve me, be grateful and have a deliciously wicked time.

Things I will do
Items I have available for my shows
Status Feed
My Rules
1) Do not embarrass yourself by trying to haggle with me. If you cannot afford my services, I suggest that you go back to school or get a second job rather than trolling the internet and annoying mistresses.

2) Address me properly and respectfully: Ma'am or Mistress are appropriate. If you are into age play, auntie or mommy are fine.

3) I do not do racial humiliation and erotic strangulation.