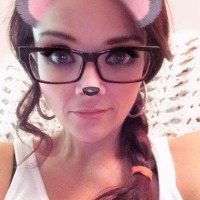 KaylaElle earned 8 awards








Personal Details
About Me
Hi there! I'm Kayla - just your average milf/geek/hot mess/kumquat/camgirl. I am undoubtedly awkward, too easily distracted and almost always LATE. But you'll find that I am also genuine, love with my whole heart and have an anxiety-inducing desire to please! CAMtime is my PLAYtime so JOIN ME for some sexy/wiggly/cammy/giggly playtime fun! Lively conversation will always be encouraged. Welcome topics include: sex, music, how you like your eggs cooked, your thoughts on deja-vu, kumquats, aliens in human suits, strangest place(s) you've masturbated, all the ways to prepare potatoes, Kirk vs. Picard, my tits... The list is extensive!! Check out my MFC Profile,
http://profiles.myfreecams.com/KaylaElle, for the latest info on upcoming events and how to join my Camquat Club!!

Sex is FUN! Camming is FUN! Chatting about sex while camming makes my panties wet!
Things I will do
Things I won't do
Items I have available for my shows
Payment Options
My Rules
All I ask is that we be respectful to one another. Cam rooms are meant to be a fun/safe space for chatting, playing and mutually masturbating! Any rudeness or general douchebaggery will not be tolerated.
I no longer use Skype as a session platform. If you are interested in booking time with me, we can schedule an MFC Private or you can prepay for time on Google Hangouts.
While live, I'm probably not answering because you haven't tipped for it and/or because I don't know you well and I like to give the majority of my attention to those chatting. Please help me get to know you better by contributing to the room and showing your support.
I do not do groups at this time but I will do private shows for 60 tokens a minute. It is probably the only way you will ever see me fully nude - winkwink
My Rates
| | Private Skype |
| --- | --- |
| 30 minutes | $ 90.00 |
| 60 minutes | $ 180.00 |
| 90 minutes | $ 270.00 |
| 120 minutes | $ 300.00 |
My Schedule
| Times are PST | Time |
| --- | --- |
| Monday | 8 PM - 12 AM |
| Thursday | 8 PM - 12 AM |
| Friday | 8 PM - 12 AM |
| Saturday | 8 PM - 12 AM |