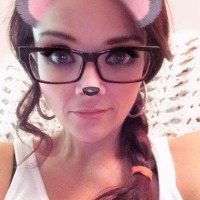 KaylaElle earned 7 awards







Personal Details
About Me
Hi there! I'm Kayla - just your average milf/geek/hot mess/kumquat/camgirl. I am undoubtedly awkward, too easily distracted and almost always LATE. But you'll find that I am also genuine, love with my whole heart and have an anxiety-inducing desire to please! CAMtime is my PLAYtime so JOIN ME for some sexy/wiggly/cammy/giggly playtime fun! Lively conversation will always be encouraged. Welcome topics include: sex, music, how you like your eggs cooked, your thoughts on deja-vu, kumquats, aliens in human suits, strangest place(s) you've masturbated, all the ways to prepare potatoes, Kirk vs. Picard, my tits... The list is extensive!! Check out my MFC Profile,
http://profiles.myfreecams.com/KaylaElle, for the latest info on upcoming events and how to join my Camquat Club!!

Sex is FUN! Camming is FUN! Chatting about sex while camming makes my panties wet!
Things I will do
Things I won't do
Items I have available for my shows
Payment Options
My Rules
All I ask is that we be respectful to one another. Cam rooms are meant to be a fun/safe space for chatting, playing and mutually masturbating! Any rudeness or general douchebaggery will not be tolerated.
I am first and foremost a wife and mother! I am fortunate that I get to stay home to raise our children. My family is my life so it's natural that they may come up in chat now and again but I will never discuss them in detail, most especially my kids. Please do not press me on this, it will result in a ban if it continues. My husband is a member and has been known to visit my chat room from time to time. Mostly though, if he's home and awake then I am probably chillaxing with him and not broadcasting.
Yes, though these meetings must be scheduled outside of my time on cam and paid for in advance. I will not leave my active chat room to meet you on Skype. Right now, I prefer Amazon gift cards as payment but also take offline tips via MyFreeCams.
While live, I'm probably not answering because you haven't tipped for it and/or because I don't know you well and I like to give the majority of my attention to those chatting. Please help me get to know you better by contributing to the room and showing your support.
I do not do groups at this time but I will do private shows for 60 tokens a minute. It is probably the only way you will ever see me fully nude - winkwink
My Rates
| | Private Skype |
| --- | --- |
| 30 minutes | $ 90.00 |
| 60 minutes | $ 180.00 |
| 90 minutes | $ 270.00 |
| 120 minutes | $ 300.00 |
My Schedule
| Times are PST | Time |
| --- | --- |
| Monday | 8 PM - 12 AM |
| Thursday | 8 PM - 12 AM |
| Friday | 8 PM - 12 AM |
| Saturday | 8 PM - 12 AM |