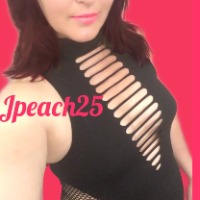 Jpeach25Feet earned 5 awards





Personal Details
About Me
Hello gentlemen, I am back on Streamate!

It would be great to see you in my chat, please be respectful, be kind to other members in my chat, have some compassion, and no mean names towards me and others, otherwise I will have no choice but to block you. I need to report that. I have not forgoten my regular members who spent a lot of time with me online and I really hope you and your families are doing well. At the end of this profile is a list of things that are prohibited in my shows.

I am back on Streamate!

My Show:

Tip $5 or more for actions in public chat depending on the request.

EXCLUSIVE ONLY SHOWS:

FEET FETISH:
OILS, LOTIONS
PEDICURED NAILS
DILDO FEET SHOWS
NYLONS/ STOCKINGS/ SOCKS/ HIGH HEELS

Topless/ Nude/ Underwear/ Clothes
C2C/ Toys/ JOI/ BBC/ Slow Strip/ Roleplay
Rate Cock/ Ass Worship/ Femdom

No topless or nude chat in public chat, no gold shows, no anal or unethical taboo roleplay in any show.

What Turns Me On:

A successful, intelligent, sensitive and sexual gentleman who treats me like I'm his one and only queen! I love to pleasure and be pleasured. I enjoy foot massages, feet kissing, toe sucking, pedicures, tickling, oil body massage, and cuddling.

My Expertise:

I have been told that my sensual, seductive side turns men on and that I have a sexy smile, eyes, and feet! They also love my sexy talk. My thigh's are thick, I have a chubby tummy, my ass is big and so is my heart



List of prohibited show requests which I don't enjoy, won't do, and some which are against the rules on Streamate and most other sites I won't do are all threquests below but not limited to;

- I have roommates at the moment, and I can moan but I can't be loud
- Bodily flueds like: Spit, crap, urination, blood
- Anal /no, not even a finger
- Try to fist myself
- No exchange of personal information
- No strap-on
- No meet-ups
- Under age play
- Rape Roleplay
- I don't do drugs
- I don't smoke
- Face slapping
- Racial slurs
- Choking
- Toy BJ's

Make sure you show me some appreciation and tip me for the actions you request, and ask me how much. DO not expect an action, to tip me something, and then tell me what to do.

My rates are set and I'll tell you when you ask, or you may see the tip/action bar up top my profile when I am online.


Want to know more?
Come visit me on Streamate @ Jpeach25
Jpeach25.cammodels.com
Hi guys/girls! Once a blonde, now a brunette! Cum find out more at my show I have a 5 star rating on Streamate and great reviews! I also have more about what I do in my show there. Please make sure you read my rules so there are no misunderstandings. Thank you for becoming my regular.


Things I will do
Things I won't do
Items I have available for my shows
Payment Options
Status Feed
Jpeach25Feet wrote 2 weeks ago

My new twitter is Jpeach25officia!

Jpeach25Feet wrote 2 weeks ago

I'll be available on Streamate, Monday, May 10, 2021, 8am-1pm PDT.
My Rules
#1
AUTOMATIC BAN/BLOCKED AND REPORTED TO WEBSITE.

Definitely don't ask if we can meet in person because the answer will always be NO! I am not an escort and do not meet up or hook up in person. I am here for your online pleasure. Nothing more.

#2

Do not, under any circumstances take a photo or video of me, or post them on a different website as legal action will be taken and I will have my lawyer contact you and you will be sued.

#3

I only do Skype shows through my Cammodel Directory model profile for proof of age verification where they also provide a secure credit card payment platfom. I do not take Paypal as paypal is not adult entertainment friendly and will close the paypal account if they find out.

#4

I cannot emphasize enough to please say hi and be polite, treat me like a lady, do not call me rude names when you enter my public chat room.. I treat those the same as they treat me. Treat me good and I'll treat you good. Not acknowledging me when you enter MY show is rude and a big pet peeve of mine, so if you don't want to be kicked out or blocked SAY HI.

#5

Private VS. Exclusive

In a private show:
Many people pop in and out on Streamate (like a group show ion Chaturbate or MYfreecams) so I have to pay attention to each person who comes into the private show, you do not get my full attention as you need to share and I also take requests from the other members.

In Exclusive Show:
You get my undivided attention and nobody can interrupt us. The price for the EXC show is a bit more as you get what you pay for. (my undivided attention as well as other actions I won't do in private.

#6

Don't sit around in my chat just to stair at me or chat for a lengthy time. Join a conversation. The time limit in free public chat is 5 minutes. After that, you need to leave or take me to a paid show.

#7

When I am on a website, do not ask me to change to a different website or skype show to suite your needs. It is in the CODE OF CONDUCT agreement not to do that and I won't, because as a model, I can be banned from the site and will not do that.

If I am on the other site I cannot go and look at your message but message me on the other platform and I will answer your questions at the one you are a member of or want to be on because of the rule stated above when I am available.

#8

Yes, I have limits of what I will and won't do.
I am open-minded but there are some things I am just not comfortable doing on cam. Please ask before you take me private or exclusive show.

Rule are subject to change at anytime, please respect them and I will respect you.