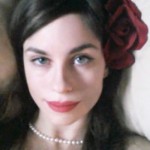 IvyWylde earned 6 awards






Personal Details
About Me
Hi, my name is Ivy.

I am a very passionate and sweet girl who cares very deeply for others. I love to surround myself with beauty and art, I'm obsessed with astronomy (and Star Trek!), and I am always looking to learn new things and improve myself. Life is very short and should be experienced to the fullest. That's why I'm here! I love to meet new people and find out what makes them tick. So don't be shy about sharing your dreams and fantasies with me. I would love to make them come true.
If you don't see your fetish, niche, or fantasy listed below, don't be afraid to make a special request!
I currently ask $2.50/minute on Skype and $3.00/minute on SkyPrivate/Cam Model Directory. I like to give my clients the option of 5 free minutes at the beginning and end of each show of 20 minutes or more (>20 minute shows do not qualify for the extra time, sorry). These 5 minute buffers help to make the set up of a show -as well as the winding down in the end- much more relaxed. We can chat and remain comfortable without worrying that we're "on the clock" and have to rush to start or end the show. See the FAQ for more info.
I take special care to make sure clients get the best possible satisfaction out of my shows. I'm very open-minded and won't judge you or laugh at you, because I understand that everyone is different and has their own unique needs. I strive to balance professionalism with a warm and welcoming attitude.
Things I will do
Things I won't do
Items I have available for my shows
Payment Options
My Rules
Although I like to thoroughly discuss what is going to happen during a show beforehand, I ask that we keep it professional. A little flirting and lighthearted joking is ok, but please refrain from telling me how aroused you are or sending me a picture of how aroused you are. Save it for the show!
Please don't keep asking me to do the things I am not comfortable with doing. There are other camgirls/guys that will be happy to do certain things for you, so there is no reason to pressure me.
I accept GiftRocket, Google Wallet, or MyFreeCams/Chaturbate tokens. In a pinch, I will accept Amazon gift cards. If you find me through CamModelDirectory, we have to use their payment system (they are very strict about that, sorry). We will decide on an agreed upon amount of time, plus an additional 10 free minutes, if you wish (5 in the beginning and 5 at the end) if you choose a 20 min or longer show. My shows are a minimum of 10 minutes.
My current rates are $2.50/minute. On SkyPrivate and CMD I'm $3.00/minute because they take a percentage. Don't forget I also offer 10 free minutes total (5 minutes to set up and 5 minutes to wind down) for every show 20 minutes or longer.
I ask for a minimum of 10 minutes, and a max of one hour. If you want to schedule time with me that exceeds an hour, we will need to break for 10 minutes of every additional hour, for which you will not be charged. The min/max time limits do not include the 10 free minutes I offer (if you order a 20+ minute show).
Sure! I only offer the free 10 minutes as a courtesy, and only for a 20+ minutes show. If you only want the time you paid for and then you want to be done with me, that's fine. If you only need 3-5 minutes at the end to debrief, that's fine too. If you need more time to set up and less time to wrap it up and say bye, we can put 7 minutes at the beginning and 3 at the end. It's up to you.
My Schedule
| Times are EST | Time |
| --- | --- |
| Monday | 10 PM - 3 AM |
| Tuesday | 10 PM - 3 AM |
| Wednesday | 10 PM - 3 AM |
| Thursday | 10 PM - 3 AM |
| Friday | 10 PM - 3 AM |
| Saturday | 10 PM - 3 AM |
| Sunday | 10 PM - 3 AM |