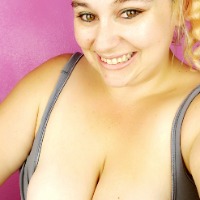 Hubbylilslut420
Cutie Chubby White Girl with Huge Boobs
27 · female · United States
Categories: American Girls, Big Boobs, Blonde, Brunette, Exotic, Girls Next Door, Piercings, Strippers, Tattoos
Statistics: 1517 visitors, 4 fans, 5 awards
Hubbylilslut420 earned 5 awards





Hubbylilslut420 has 4 fans
Personal Details
About Me
I started camming 10/22/2017 I'm a 28 year old Happily Married BBW MILF Cam Girl with 46DDD TITS I love my Myself!! I love Attention💋💋💋
Chaturbate is my main cam site. I Cam Solo And with my Husband
Things I will do
Things I won't do
Items I have available for my shows
Payment Options
Status Feed
Hubbylilslut420 wrote 1 year ago

Anal Training Begins This Week Do Not Miss the Fun!!!
My Rules
I am A Porn Star so No I'm Not fucking you and No I Dont want to See ur Dick..
Dont Be a Dick!
*Pay2Play Required*
No Demands
You Have No Control over me, I am Only a Submissive Slut for My Husband Not You
Dont Fucking Try to Control Me (But You can Try to Control my Lush)
Don't act Differently When my Husband is at work
Flirt with me Cuz We Both like it

Nope Happily Married for Almost a Decade
None of You Fucking bussiness.
Not unless your Paying Me. My Time is Not Free. If you want Me to Take time out of my life to Get to know you then you better be Spoiling me!
I LOVE MY BODY For the First Time in My Life. I am A Cute Chubby White Girl with huge Tits. I have never been Happier
My Schedule
| Times are PST | Time |
| --- | --- |
| Monday | 11 AM - 2 PM |
| Tuesday | 11 AM - 1 PM |
| Friday | 11 PM - 2 AM |
| Saturday | 11 PM - 4 AM |
| Sunday | 11 PM - 2 AM |