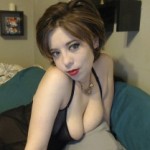 Heatherme earned 8 awards








Personal Details
About Me
Smartie, nerdy, sexy, make me laugh. Dom or sub? kirk or spock?

I almost always cam late at night. Around 12am EST and I stay on till when ever I get tired. Might be 4am might be 11am. I have no set schedule. Best is to favor me or follow me on twitter. I usually am on at least 3 nights a week.
I like to just plain have fun. There are things I love to do, like roleplay, play with my toys, be dominated, and any kind of dress up. KINKY, KINKY, KINKY, sweet


I like to please but of you don't have anything special in mind, you'll likely get a cum show with lots of toys. I really like dirty talk and I LOVE cam 2 cam privates! I love watching you cum for me. It's really hot. Makes me feel that much more sluttier.

As for the list of things I won't do its very short. A lot of the other things, like latex or a strapon. I just don't have right now. I need to do some serious shopping. Don't forget, what girl doesn't love gifts!

I like to do other things too like strip tutoring, or really whatever you can come up with, I tend to be willing to wanna try.

But aside from all this, one the most attractive things that makes my guys stay with me, is that I'm sweet and they like to talk to me. I like to talk to them too.

Feel free to contact me direct through e-mail, if you want to talk about a show, or get more information about me and what I do. The mesaging through here is not something it seems I've ever checked. Whoops : )


I can't wait to have fun with you :* Come check me out!
Things I will do
Things I won't do
Items I have available for my shows
Payment Options
Status Feed
My Rules
My rules are pretty simple. Never be rude to me or anyone else in my group/general chats. The only time you ever get to be rude to me is if we are having a private show and that's what we're playing




I do NOT take pay pal ever. I apologize. Some of my favorite stores that are not listed, like karmaloop, take paypal as payment for gift cards. There's usually some way to work things out. There is a list of stores and other links for places you can send me gifts on my Google plus page. Just look under the about tab.

I now take payments through GOOGLE WALLET