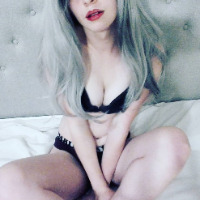 Eden earned 4 awards




Personal Details
About Me
I'm Eden

A 20 y.o french non-binary person. I started as a cammodel a year ago. In my personnal life, I study modern litterature. I sell some erotic online products for my living. I like using pictures to express a secret and precious part of my inner self.

Non binary means I don't identify as a boy or as a girl. I'm androgynous, I was born female, but I have a deep voice, a big clit, and small boobs. You can discover all of this on my pictures.

I don't like labels, so I just live without it. I'm pansexual, polyamourous, I have many lovers, girlfriends, boyfriends, non binary and transgender partner.

Want to know more of me? Follow me on social medias or buy something here to get my full attention.
I like to meet people. Getting in touch with chatting, then discover more and more about our personalities and bodies... Sex is way better when we know all our dirty secret
I'm open to lot of things, so don't wait to add me on skype, so we can chat about our fantasies!
Things I will do
Things I won't do
Items I have available for my shows
My Rules
Always be polite, ask before starting a role play, never ask for free content, depending on my mood I'll not always be okay with everything, be respectfull.
Be nice and will see each other more often