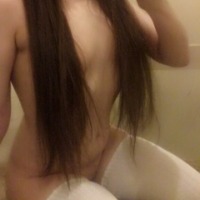 DeviantDolly earned 7 awards







Personal Details
About Me
Hi guys, I'm Dolly. I like long walks on the beach, candlelit dinners, and showing off my (admittedly awesome) body on cam. I'm very very kink and fetish friendly and quite open minded, so don't be shy about asking me about things that you like. I mostly do custom work, and I'm very good at taking direction. I'm also willing to cam live, though I will say I don't have a lot of experience doing so. Who knows, maybe that's more of a turn on for some people. I have a number of toys and props and other fun things to keep things interesting. Be sure to ask me about those, as well, if it's your thing.

That much aside, I like to think I'm a pretty good conversationalist too. I'm into books and gaming, and I love animals. I plan to go to school once I've gotten my situation a little more sorted out. I'm very happy to make friends with all kinds of people, as well as do any business that we may do. I like to sorta bond with the people I work with so that my work can be done with more care, if it makes sense.

Feel free to say hi. My hours are super flexible so you won't be inconveniencing me, and I'd surely love to have the chance to get to know you and work with you.

I may look innocent, but I'm really a very dirty girl. I'm open minded and eager to please, so nearly anything goes. If you're curious about something, ask. I want to make things fun and enjoyable for both you and myself.

As far as personal tastes go, I do like roleplaying. I kind of specialize in ageplay given my appearance/mannerisms. Don't be afraid to ask me to get rough either. I'm a tiny little thing, but I assure you, I can take it.
Things I will do
Things I won't do
Items I have available for my shows
Payment Options
My Rules
Be respectful of my boundaries/limits and we won't have a problem. Also, try not to be rude to me or anyone else in the room. You can be mean to me when we play in private, though, if that's what you're into.
Both are fine by me. If you want one or the other, don't be afraid to ask.
Everything is basically done on a whenever I feel like it/whenever I have a deadline/something scheduled basis.
I can be whatever you want me to be, if the price is right. ;D
I can be pretty lenient with my rates at times, once I know you.
My Rates
| | With Sound | Without Sound | Fetish |
| --- | --- | --- | --- |
| 1 minutes | $ 2.50 | $ 2.00 | $ 3.00 |
| 10 minutes | $ 15.00 | $ 10.00 | $ 20.00 |
| 30 minutes | $ 40.00 | $ 35.00 | $ 45.00 |