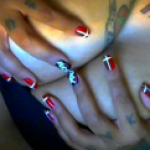 CydHavoxx earned 5 awards





About Me
Hello Hello!! Cyd Havoxx here from the Southern Az. (US). Im a SSBBW Camgirl, Gamergirl, Hedonist, Kinkster, Wycked Saint. I love to tease, dominate, and just have plain good ole fashioned Hedonist Fun.




My Shows: Oil/Lotion, Breast/Ass/Pussy/Foot/BBW Worship, SPH, JOI, CEI, Sissy Training, Ignore Cam, Shower/Bath, Shaving, and more..

Normally if something isn't listed, just ask. And we can discuss it so as long as you show respect. Keep it Classy!!


Everyone has their own kinks. So My shows vary from person to person depending upon their individual interests and kinks. So feel free to contact Me if you have any questions.
Things I will do
Things I won't do
Items I have available for my shows
Payment Options
Status Feed
My Rules
- Be respectful at ALL times.

- I DO NOT give freebies, I'm verified on many sites, you feel the NEED to verify Me, it will be a fee of 50$ for Me to even entertain you that will only last 2mins.

- I am NOT submissive, nor am I a switch. Dont ask.

- Payment is to be made IN ADVANCE for shows, I will not give you a show on a promise you will pay later. No. Dont even think it.

- Contact Me about a show at least 24 hrs in advance. Have an idea of what you would like to do or watch. I am not responsible for time lost because you were not prepared with an idea beforehand.

- I DO NOT accept paypal or amazon gift cards as payments for shows. Dont ask.
My Rates
| | With Sound | Without Sound |
| --- | --- | --- |
| 5 minutes | $ 13.00 | $ 13.00 |
| 10 minutes | $ 27.00 | $ 27.00 |
| 20 minutes | $ 54.00 | $ 54.00 |
| 30 minutes | $ 81.00 | $ 81.00 |