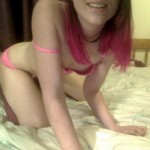 ClaireCutie earned 5 awards





Personal Details
About Me
I can be an angel or a slut... you decide. I love to roleplay lots of different fantasies - but I won't go anywhere near 'hard' taboo - if you aren't sure if your particular kink is hot or wrong, just ask. If it's all good, then it's all good! If not... you will be told to fuck off.
I'm 23, with colourful shoulder-length hair; currently a size 6 with measurements 28-24-30; A-cup boobies; 5'7" and size 5 feet with lovely delicate arches that love to be pecked with kisses.

I like it when you tell me what you want and what you're into, because I'm not a psychic I like to start with a little strip tease and a dance, unless of course you want me to keep my clothes on and just flash you the odd peek - or hitch my skirt up and panties to one side perhaps? Your show, you choose.
Things I will do
Things I won't do
Items I have available for my shows
Payment Options
Status Feed
My Rules
Don't be a dickhead