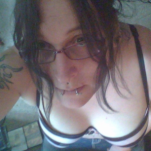 BrokenThings earned 6 awards






About Me
I like to think I'm a girl who knows her way around a cock or even a delicious pussy! I've been sexually active and in the BDSM lifestyle for 14+ years and am no stranger to debauchery and kinky fun!
Being in the kink community for as long as I have I've discovered I have very few true dislikes, if I don't list something as a 'Thing I do' and you want me to, just ask! Worst thing that happens is I'll say no!
Things I will do
Items I have available for my shows
My Rules
If I tell you no, listen.