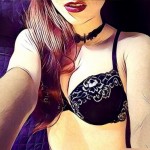 Ambrozia earned 4 awards




Personal Details
About Me
My name is Ambrozia and I am 21 years old! Iím quite shy, so please be nice. I love writing, reading, music, and Netflix.

Iím currently taking a break from university to work on my mental health. I have depersonalization-derealization disorder, which prevents me from working a typical job. Fortunately, Iíve found this gem of a job online that works with my disability, lets me meet incredible people. and is also tons of fun! Donít worry, Iím not crazy, just burdened with too much anxiety.
I try to offer an intimate, personal experience in my shows. Privates are my fav, because I can concentrate on just you. I also like playing games and creating a party atmosphere in my room where we can all relax and have fun.
Things I will do
Things I won't do
Items I have available for my shows
Status Feed
My Rules
1. Be kind, polite, and respectful.
2. Absolutely no begging or demanding. No means NO.
3. I am in charge. My room, my rules.
4. No promoting other sites/models.
5. NO degrading requests or comments.